Kwik Load Trailers offers heavy haulers, car and gooseneck trailers for sale in Texas. Safety and ease of operation are standard with all of Kwik Load Trailers' products, whether you need a heavy hauler, car trailer or gooseneck rig to move your car or heavy equipment. Kwik Load Trailers are simple to use and easier to drive than other similar trailing systems, and every trailer is built using only the highest quality materials throughout the manufacturing process. Check out the Kwik Load Trailer selection of haulers and trailers:
A heavy hauler is the perfect solution for moving heavy equipment or oversized equipment.
Kwik Load Trailers' car hauler has the convenience of lights for night trips and other safety features to make towing a breeze.
A gooseneck trailer anchors to the bed of a pickup truck for additional sturdiness and superior maneuverability.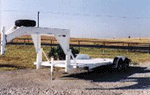 For more information about the selection of car haulers and trailers, contact Kwik Load Trailers today by filling out a contact form or by calling 903-893-7133. You can also email Kwik Load Trailers at sales@kwikload.com. Kwik Load Trailers representatives are available to help you choose the perfect trailer to suit your needs and answer any questions that you might have about Kwik Load Trailers.
LIMITED WARRANTY
This limited warranty (warranty), issued by Kwik-Load, Inc., applies to each open air car-hauling trailer it manufactures and covers defects in material and workmanship only. This warranty does not cover defects in tires, paint or brakes. Kwik-Load, Inc. warrants the original purchaser (and any subsequent purchaser) of a trailer that the trailer (excluding tires, paint and brakes) will be free, under normal use of service, from defective workmanship for a period of five (5) years from the date of delivery to the original purchaser. This warranty does not cover any defect in a trailer caused, in whole or in part, by tampering, improper service, misuses, negligence, intentional acts or damage of or to the trailer.
To make a warranty claim during the applicable warranty period, you must present the trailer along with proof of purchase to the authorized distributor from whom it was purchased and inform the distributor of the possible defect. If the distributor finds a defect which is covered by this warranty, the defective part will be repaired or replaced at no cost to the purchaser.
To the extent permitted by law, this warranty is in lieu of all other warranties, expressed or implied, including but not limited to the implied warranties of merchantability and fitness for a particular purpose. This warranty shall be exclusive and there shall be no rights to recover incidental or consequential damages.