Specifications
Dimensions: 102″ wide (overall) by 305″ long (overall)
Load Bed: 20 – 24 feet
Load Capacity: 10,000 – 16,000 GVWR
Deck: 1/8″ steel diamond plate
Frame: 11 GA. 4×2 and 4×3 – 3/16″ tubular
Axles: Twin 6,000- 8,000 lb. drop Torflex with Easy Lube
Coupler: 12,000 lb. 2 – 5/16″ with safety chains, brake-a-way switch and swivel jack
Brakes: Four-wheel electric with manual parking brake, when loading or unloading
Wheels: Steel 15″ 6-hole or 8-hole with white spoke
Tires: New 15″ 8-ply or 16″ 10-ply radials
Lights: Twin tail lights and D.O.T. lighting
Fenders: Two removable with Chip Guard
Paint: Polyurethane with pin-striping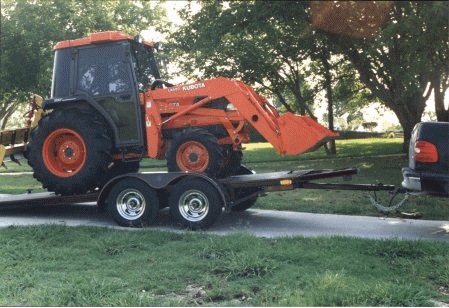 Options
Chrome Wheels with Rust-resistant Clear Coating – Spare Tire and Mount – Hydraulic Surge Brake – Tool Boxes – 6,000 lb. Swivel Tie-downs – Bed Lights – Additional Bracing – Aluminum Decking – Wood Decking – Wing Faring – Aluminum Fenders – 5,000/8,000 lb. Winch
Heavy Equipment Haulers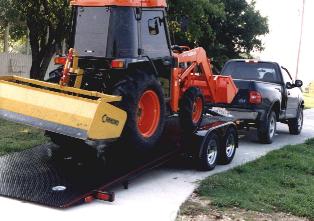 Kwik Load Trailers' heavy equipment haulers and trailers for sale in Texas are the best towing rigs that money can buy. Offering superior safety, ease of use and features that can't be found on other haulers or trailers, Kwik Load Trailers' heavy haulers offer superior performance backed by a five-year warranty.
Featuring a 20- to 24-foot load bed, a steel diamond plate deck, a four-wheel electric braking system with a manual brake for safe loading and much more, you can trust this trailer to get your equipment wherever you need to go. These trailers also offer removable fenders with Chip Guard protection, as well as a brake-away switch and swivel jack as part of the coupling system. The trailers are supported on twin 6,000- to 8,000-pound drop Torflex with Easy Lube axles. Depending on your needs, other options are also available include spare tires, tool boxes, aluminum or wood decking, wing faring and much more.
Kwik Load Trailers are capable of handling your haul, whether it's taking a backhoe down the road or a tractor across the state. To learn more about the selection of heavy equipment haulers and trailers for sale at Texas' Kwik Load Trailers, call them today at 903-893-7133, email them at sales@kwikload.com or fill out a contact form online now.