Specifications
Loading Deck: 78″ Wide, 84″ Between Fenders – 1/8″ Steel Diamond Plate
Load Capacity: 7,000 GVWR
Tie Downs: Four 6,000 lb. swivel "D" hooks
Frame: 11 GA. 3×2 and 3/16″ 3×3 tubular
Axles: Twin 3,500 lb. drop Torflex with Easy Lube
Coupler: 7,000 lb. capacity with safety chains, brake-a-way switch and 5,000 lb. swivel jack
Brakes: Four-wheel electric with manual parking brake
Wheels: 14″ Silver Mod Wheels
Tires: New 14″ 6-ply radials
Lights: Twin tail lights and side markers with two lights in bed for loading at night
Fenders: Two removable with Chip Guard
Paint: Polyurethane with pen striping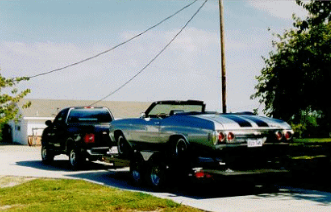 Options
Spare tire – Spare tire mount – Hydraulic Surge brake – Wind faring – Rails – Winch – Aluminum floor – Aluminum fenders
Car Hauler

Kwik Load Trailers offers aluminum floor rollback car hauler trailers for sale in Texas. Featuring easy leading capabilities, extra safety features and modifications to improve overall versatility, these car haulers are the best choice for your vehicle towing needs. It is easy to see why Kwik Load Trailers is a leader in the market with their versatile selection of aluminum rollback car hauler trailers available for sale in Texas.
The Kwik Load car hauler has a loading deck between 78 inches wide and 84 inches between the fenders, with four-wheel electric brakes backed up with a manual parking brake and two lights in the trailer bed to make loading at night simpler. Other features of the Kwik Load car hauler include a load capacity of 7,000 GVWR, four 6,000-pound swivel "D" hooks for tying your vehicle down, and a tubular frame construction set atop twin 3,500-pound drop Torflex axels.
For more information about their full selection of car haulers and trailers, contact Kwik Load Trailers today. Fill out a contact form online now, give them call at 903-893-7133 or email sales@kwikload.com. Kwik Load Trailers representatives are available to help you choose the car hauler or trailer that will best suit your needs and answer any questions that you might have about Kwik Load Trailers.