Aluminum Gooseneck Flatbed Trailers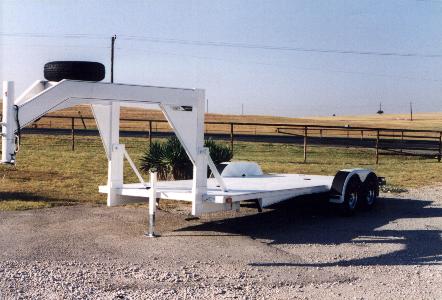 Specifications:
Loading Deck: 22′ – 34′ – 1/8″ Steel Diamond Plate
Load Capacity: 10,000 – 16,000 GVWR
Frame: 2×4 or 2×6 – 3/16″ and 3×4 or 3×6 – 3/16″ tubular
Axles: Twin 6,000-8,000 lb. drop Torflex with Easy Lube
Coupler: 2 5/16″ with safety chains, brake-a-way switch and 7,000 lb. drop-leg jack
Brakes: Four wheel electric with manual parking brake, when loading or unloading
Wheels: 15″ 6-hole or 16″ 8-hole white spoke
Tires: New 15″ 8-ply or 16″ 10-ply radials
Lights: Twin tail lights and side markers
Fenders: Two removable with Chip Guard
Paint: Polyurethane with pinstriping
Options:
Chrome wheels with rust-resistant clear coating – Spare tire – Spare tire mount – Tool Boxes – 6,000 lb. tie-downs – Additional bracing – Aluminum decking – Wood decking – Bed Lights – 5,000/8,000 lb. Winch
Gooseneck Trailers
Kwik Load Trailers offers gooseneck flatbed trailers for sale in Texas. Their aluminum floor gooseneck flatbed trailers feature superior safety features, with safety chains, a brake-away switch and other features that have helped to make Kwik Load Trailers a leader in the industry.
Each loading deck is construction from 1/8-inch steel diamond plate and measures 22 feet by 34 feet. Every component, from the wheels and tires to the lights and fenders are all made with high quality materials. Other features of Kwik Load Trailers' aluminum floor gooseneck flatbed trailers include a 10,000 – 16,000 GVWR load capacity, two different tubular frame sizes – 2×4 or 2×6 and 3×4 or 3×6 – twin 6,000- to 8,000-pound drop Torflex with Easy Lube axles, and removable fenders with Chip Guard protection. Each trailer also comes equipped with new 15-inch eight-ply or 16-inch 10-ply radial tires, and can be further customized with chrome wheels, tool boxes, additional bracing, aluminum or wood decking and bed lights for easy night loading and unloading.
Learn more about the different gooseneck flatbed trailers available from Kwik Load Trailers today. To speak with a representative, call 903-893-7133 or email sales@kwikload.com. You can also fill out an online contact form and a Kwik Load Trailers representative will be in touch to answer all of your questions about the full line of available gooseneck flatbed trailers.